Ways & Means is a podcast that features bright ideas for how to improve society. The show is produced by the Sanford School of Public Policy at Duke University.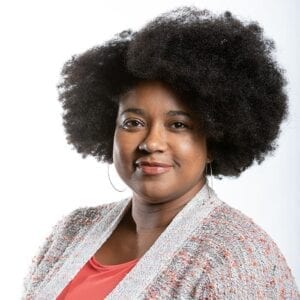 Lindsay Foster Thomas hosts season 6. Lindsay is multiplatform journalist and audio storyteller. She is currently the Content Director for North Carolina Public Radio (WUNC). Previously she was part of the national production team at WAMU in Washington that launched NPR's 1A with Joshua Johnson and was senior producer for On Second Thought at Georgia Public Broadcasting with host Celeste Headlee. At Marketplace, she helped re-launch a weekend personal finance program and embedded with an investigative reporting team for the project "York & Fig," which examined gentrification through the study of one Los Angeles neighborhood. Lindsay is a graduate of Columbia University's School of Journalism and Hampton University.
Emily Hanford hosted the first 5 seasons. Emily is a senior correspondent covering education for APM Reports, the documentary and investigative reporting unit of American Public Media. Emily has worked in public media for more than two decades as a reporter, producer, editor and program host.
Season 6 Producers
Carol Jackson is an EMMY and WEBBY award-winning media producer. Prior to joining the Sanford School of Public Policy at Duke University, Carol was part of the founding team for the nationally distributed public radio program, "The Story with Dick Gordon." Earlier in her career, Carol worked in public television in Boston and Baltimore. At Duke, she co-produces the podcast Ways & Means with Alison Jones, and produces the Policy 360 podcast in addition to other communications roles. In 2019, Ways & Means was recognized with a national CASE Gold Medal award for excellence in university podcasting.
Alison Jones is an award-winning writer and audio producer whose has been featured on All Things Considered and Morning Edition. Her radio documentary "Mine Enemy: The Story of German POWs in America" has aired on public radio stations across the country since debuting in 2014. A former staff writer for the Raleigh News & Observer, Alison has also reported on the Carolinas for TIME magazine. Alison served for many years as senior writer for Duke University Communications, and was recently named managing editor of the 9th Street Journal at Duke University's DeWitt Wallace Center for Media and Democracy.
Malu Frasson Nori produces multimedia content for the Sanford School of Public Policy. Previously she was the lead video editor at StoryDriven. As a Duke student, she co-founded the "Hear at Duke" initiative, which included a podcast series and live storytelling events.
Our thanks to Season 6 series consulting producer Candace Manriquez Wrenn. 
Stacia Brown is a producer at WUNC/North Carolina Public Radio. Previously, Stacia was a producer for WAMU's daily news radio program, 1A. She's the creator and host of two podcasts, The Rise of Charm City and Hope Chest.
Matthew Majsak is an associate producer. Matt is an undergraduate student at Duke University. He works as a communications assistant for the Sanford School where he is a writer, manages social media, and is lead associate producer for the Policy 360 podcast.
Thanks also to WUNC'S Natalie Dudas-Thomas for help with social media.
Ways & Means "Shorts"
James Morrison hosts the "Ways & Means shorts" series for public radio. James is an award-winning broadcast reporter and field producer.
Episode Artists & Interns
All are Duke University students:
Season 6: Erin Blanding 
Season 5: Rae Hsu
Season 4: Melissa Carrico
Season 3: Cristina Garcia Ayala
Season 1 & 2:Katherine M. Zhou
A student from Duke University, created this video for us!