The Ways & Means podcast is produced by the Sanford School of Public Policy at Duke University. We use the best documentary tools to record and tell dynamic stories about Duke research. We often record on location in North Carolina, throughout the US and the world. Episodes are hosted by a journalist and are professionally scored.
The podcast has won major national awards, including honors from the National Association of Black Journalists (besting submissions from MSNBC and CNN), a Gracie, and a national CASE Award for excellence in university podcasting.
Hosts have included:
Emily Hanford, American Public Media
Lauren Rosenthal, American Public Media
Simran Sethi, freelance journalist (New York Times, Smithsonian, The Guardian and more), author and podcaster
Lindsay Foster Thomas, North Carolina Public Radio, WNYC
Bob Sullivan, veteran journalist
We have a close partnership with North Carolina Public Radio, and many podcast episodes are subsequently aired on the radio. In 2022, our four-part radio series with Professor Sandy Darity aired nationally on public radio in many major markets including WABE (Atlanta), WAMU (Washington, DC), KUOW (Seattle) and more. The series was distributed by American Public Media.
Ways & Means is produced by Carol Jackson and Alison Jones of the Sanford School. Jackson previously served as the managing editor for the nationally distributed public radio program The Story with Dick Gordon. Jones is an award-winning writer, editor and audio producer whose worked has aired nationally on public radio.
About Our Hosts
Lauren Rosenthal (Season 8)
Lauren is an investigative reporter and producer for APM Reports. Lauren is the host of In Deep, a podcast about disaster recovery and climate change. Lauren previously worked as an investigative reporter for North Country Public Radio and spent three years reporting from rural Alaska, where she covered Arctic oil drilling and politics.
Simran Sethi (Season 8)
Simran is the author of Bread, Wine, Chocolate: The Slow Loss of Foods We Love about the loss of biodiversity in food and is the creator of the podcast The Slow Melt. She has written for outlets including The New York Times, The Washington Post, National Geographic, Smithsonian, Guernica and The Guardian.
Bob Sullivan (Season 7)
Bob is a veteran journalist and the author of five books. He has won a Peabody award among other honors. He co-hosts the podcast / audio documentary "Breach" and hosts AARP's The Perfect Scam podcast.
Lindsay Foster Thomas (Season 6)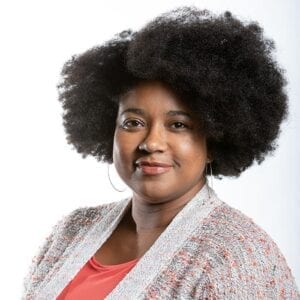 During production of this series, Lindsay was Content Director for North Carolina Public Radio (WUNC). In 2022 Lindsay was named Vice President of WNYC Studios. Previously Lindsay was part of the production team that launched NPR's 1A with Joshua Johnson.
Emily Hanford (Seasons 1-5)
Emily is a senior correspondent covering education for APM Reports, the documentary and investigative reporting unit of American Public Media. Emily has worked in public media for more than two decades as a reporter, producer, editor and program host. She is the host of the podcast Sold a Story.
Artwork
Original artwork for each episode of Ways & Means is created by Duke students and alumni.